Overnight blustery westerly wind calmed at daybreak for a clear sunny day. Vismig picked up through the morning with trädpiplärka/tree pipit and gulärla/yellow wagtail seen going south and several sparvhök/sparrowhawk were noted through the day. An Ortolansparv/Ortolan bunting was seen going north mid morning and a videsparv/rustic bunting was to the south of the Fågelstation, both of these species have declined dramtically in recent years. Light passage offshore included three Skräntärna/Caspian tern, noted going southwest.
During the afternoon fourteen getingspindel/wasp spiders were found in Bredmar and an additional four at Saltmar were the first seen there this year.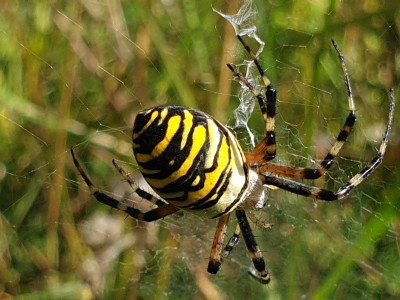 Wind: Westnorthwest
Strength 1,5-8 m/s
Temperature: 17-22
Visibility: Good
Cloud cover: 2/8 – 0/8
Precipitation: None.
30 birds ringed: Trädpiplärka/tree pipit 5, rödhake/robin 2, koltrast/blackbird 1, ärtsångare/lesser whitethroat 4, trädgårdssångare/garden warbler 4, svarthätta/blackcap 1, Lövsångare/willow warbler 11