A good ringing session this morning with three firsts for the year and Goldcrests still moving through steadily. The highlight was two separate Black Redstarts caught at Bredmar, meaning we've already surpassed last year's total of one. An early Wryneck was seen briefly at Bredmar this morning before departing to the west and the Common Pheasant was seen again at the north of the island.
In the evening we managed to read the metal ring on a Common Gull at Västerhamn and found out that it had been ringed as an adult in the very same area back in 2010, with ours being the only sighting since then!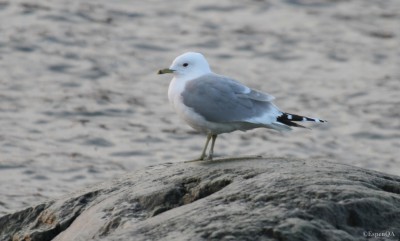 A sheltered sunny spot near the obs was a popular basking spot for the first emerging Adders of the season today, with at least two seen soaking up the rays.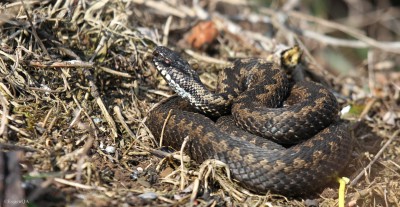 Wind: Southeast moving to east
Strength: Light, 6-8 m/s
Temperature: 4-7
Visibility: Very good
Cloud cover: 1/8
Precipitation: None
Ringing day totals:
Wren / Gärdsmyg: 2

Dunnock / Järnsparv: 1

Robin / Rödhake: 12

Black Redstart / Svart Rödstjärt: 2

Blackbird / Koltrast: 1

Mistle Thrush / Dubbeltrast: 1

Chiffchaff / Gransångare: 2

Goldcrest / Kungsfågel: 18

Mealy Redpoll / Gråsiska: 1
Total: 40